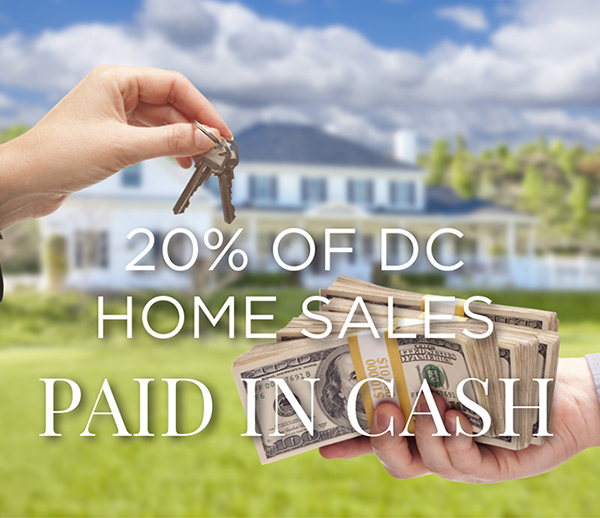 20% of the homes sold in Washington DC in 2018 were purchased as "All-Cash Deals". This is consistent from the sales in 2017 and 2016.
An article ran in Urban Turf highlighting this statistic. There were 8,328 homes sold in DC in 2018, and 20% of them paid in cash. The largest percentage of cash sales were in West End, Georgetown and Spring Valley. This would be expected as there is a large amount of wealth in these neighborhoods. There are many home owners who are looking for a place to park money; this is especially true when the stock market is not consistent. Also, several of these home owners have multiple homes. They do not need the tax advantage a primary resident might have on their taxes with interest deduction; they pay 100% down as they have no tax advantage on their DC home as they use it on their primary address elsewhere.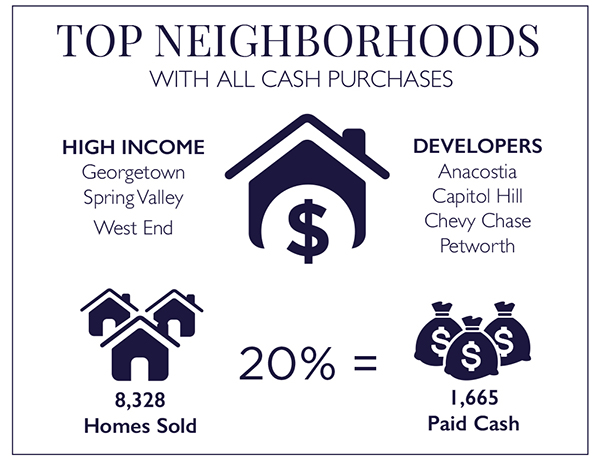 There are other neighborhoods that had high percentages of cash deals that don't have the large household incomes as the neighborhoods listed above such as Anacostia, Petworth, Chevy Chase & Capitol Hill. Some of these neighborhoods might have had Buyers pay in cash and move in, but it is more likely that these neighborhoods have developers purchasing with cash and then flipping them for a higher price. Typically, an end-user moves into these renovated homes that were originally paid with cash and then purchases the updated home using a conventional loan.
Regardless of how homes are purchased in DC be they through traditional mortgages or with cash, we are fortunate to be living in one of the most stable, healthy and thriving real estate economies in The United States.