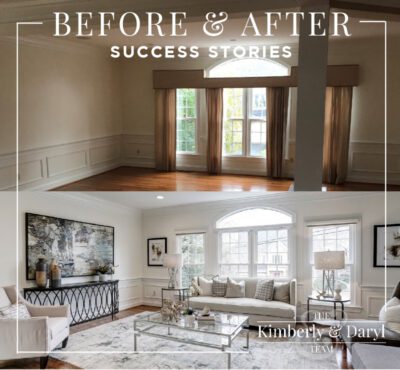 Achieving superior results requires a superior level of expertise and hard work, and no one knows this more than the Kimberly & Daryl Team at Washington Fine Properties. Time and again, we have shown that we are able to rise to the occasion and make sales when other Realtors have failed to do so.
Sellers who have worked with the Kimberly & Daryl Team will speak to their time "before Kimberly & Daryl", when their homes sat on the market for months and were not marketed properly. When the Kimberly & Daryl Team stepped in, results happened – our sales are proof of it! Homes that previously sat without any offers for months with another Realtor have gone under contract in less than one week on the market with us.
This is not without lots of hard work though, and the Kimberly & Daryl Team are with their clients to advise them through each step of the process. Sellers and buyers alike have benefited from this unmatched level of expertise, knowledge and dedication to a successful sale.
If one thing is for sure in real estate, it is that even the most beautiful of homes will not sell itself. You should be working with the best if the best results are what you expect.

4842 26th Street N
Previously on the market for months with another Realtor
Taken over by Kimberly & Daryl and contracted in 6 days
Closed $53,500 above asking $1,303,500

1701 18TH ST NW, #401
Previously on the market for months with another Realtor
Taken over by Kimberly & Daryl Team and contracted in 4 days
Asking price of $1,575,000 and closing this Friday
2118 O ST NW, #C
Previously on the market for months with another Realtor
Taken over by Kimberly & Daryl team and contracted in 7 days
Asking price of $1,795,000 and closing on April 2