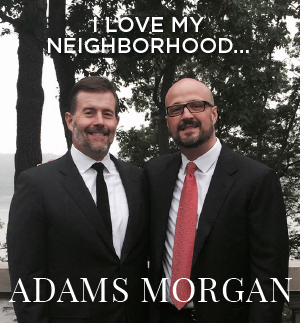 "We moved to the very southern tip of Adams Morgan almost 20 years ago, in December 2000.
We loved the central location, with access to U Street, Dupont and being a 20 minute walk from my office on M Street.  The neighborhood and the city were very different places from what we experience today.  Both the city and our neighborhood have been re-born in the past 20 years, and now boast amenities we could not have imagined in 2000.  We love where we live because we are in the center of everything, with  all the great things our city has to offer within a walk or short Uber ride away.
The bodega on the corner of 18th and Florida is now The Imperial, (imperialdc.com) a chic raw bar with a whisky bar in the basement, owned by the same people who brought us another favorite, Jack Rose Dining Saloon, an American restaurant with the largest collection of rare whiskeys and bourbons in the world.  Besides these, we are four blocks from the bustling dining scene on 14th Street and a 10 minute walk from our go-to favorite diner, Annie's Paramount Steakhouse, and a block away from neighborhood Tex-Mex institution, Lauriol Plaza, and our favorite Thai, Regent.
To burn off all the dining out calories, we count on the awesome coaches at CrossFit MPH, a 10 minute bike-ride away, on Church Street and 15th St. in Logan Circle.  We love living a 15 minute walk from the National Zoo and being able to access the beautiful trails of Rock Creek Park, just off of Calvert Street. We also love living a 20 minute walk from Georgetown, and I usually walk or bike to get my haircut at David Rios Salon on Wisconsin Ave. and P Street.  We also love living within walking or biking distance of some of our best friends, who are in Logan Circle, Georgetown and Dupont Circle.  We travel often for work and pleasure and having National Airport a 15 minute Uber ride away in the early mornings is a dream come true."
Ross & Shane